Delicious Fast and Easy Tofu Scramble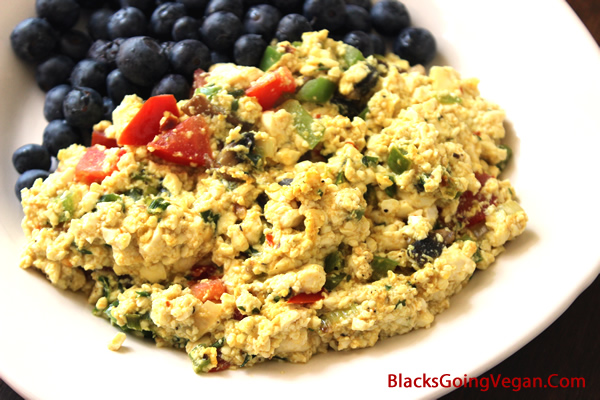 Created by:
BlacksGoingVegan.Com
½ small yellow onion
½ red bell pepper, diced
1 carton firm non-GMO organic tofu, drained
2 Tablespoons Earth Balance vegan butter spread
1 green onion, sliced fine
1 tsp garlic powder
1 tsp onion powder
1 Tablespoon soy sauce or liquid aminos
2 Tablespoons nutritional yeast
½ tsp turmeric
1 Roma tomato, chopped small
½ tsp red pepper flakes (optional)
fresh ground black pepper and salt to taste
Saute onion and pepper in vegan butter for about 1 minute (use a non-stick pan for best results).
Break up tofu into large crumbles with your hands into a bowl and add to onion mixture, sauteing an additional 5 minutes until vegetables are tender. Stir often to mix flavors.
Add remaiing ingredients, then reduce heat to medium and allow to cook 5-7 minutes more. Add more oil if needed (but using a non-stick pan can cut fat in half and reduce calories).
Serve hot with hash browns, fruit, toast or grits.
To reproduce the smell of eggs, use Kala Namak (black salt) vs. regular tables salt. Black salt has a sulfury smell and really makes the tofu taste like scrambled eggs. You can find it at Indian (Asian) grocers and most health food stores.
Recipe by
Blacks Going Vegan!
at http://blacksgoingvegan.com/delicious-fast-and-easy-tofu-scramble/