Cooking Black Beans in a Pressure Cooker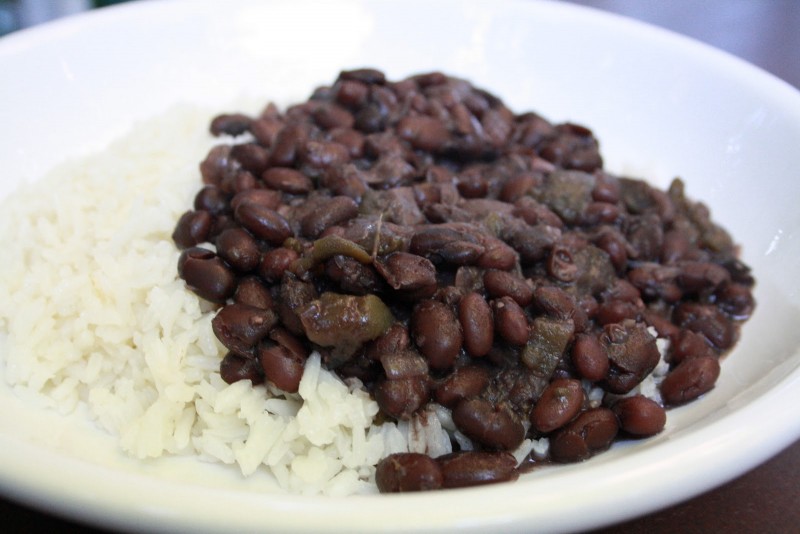 Created by:
BlacksGoingVegan.Com
4 tablespoons extra-virgin olive oil
1 package Goya Ham Flavored Concentrate
1 medium onion, diced
2 cloves garlic, minced
1 bay leaf
2 cups (about 1 pound) dried black beans, picked over and rinsed
6 cups water
Kosher salt and freshly ground black pepper
In a 6-quart pressure cooker over medium-high heat, pour in 3 tablespoons oil.
Add onions and cook until the onions are wilted; add garlic and bay leaf and cook for 1 minute more.
Add the beans and ham concentrate; stir well.
Pour in the water; add the remaining tablespoon of oil, 1 teaspoon of Kosher salt, and a couple of grindings of fresh black pepper.
Following the manufacturer's instructions, cover, lock the lid, and bring to high pressure. Lower heat to maintain pressure and start timing.
Cook at high pressure for 25 minutes. Remove from heat and let rest for 15 minutes.
Test steam by using the pressure release valve, then open lid; stir and taste beans, testing doneness and adjusting seasoning as necessary.
If the beans are undercooked and too firm, simmer them with the lid off until tender.
Remove bay leaf and discard.
Goya Ham Flavored Concentrate contains salt, monosodium glutamate, artificial ham flavor, hydrolyzed vegetable protein, and silica (an anti-caking agent).
Recipe by
Blacks Going Vegan!
at http://blacksgoingvegan.com/vegan-black-beans-in-a-pressure-cooker/