Meet Quinoa The Superfood Grain of The Andes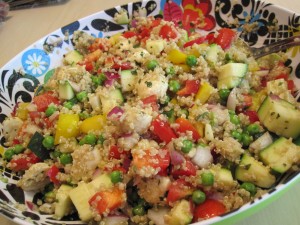 Created by:
Deborrah of BlacksGoingVegan.Com
3 cups cooked quinoa
⅓ cup fresh lime or lemon juice (or more to taste)
¼ cup extra virgin olive oil
1 cup parsley, chopped
⅔ cup green onions, chopped small
1 cup cucumber, chopped small
1 cup baby heirloom tomatoes, diced (use red, orange and yellow for variety)
⅓ cup frozen or fresh peas
salt and fresh ground black pepper to taste
Place cooled, cooked quinoa in a large bowl.
Add all ingredients to bowl with quinoa and toss well to combine.
Add 1-2 more tablespoons of olive oil if needed.
Taste, adjust salt and pepper if necessary.
Refrigerate until ready to serve.
Great cold or at room temperature.
Recipe by
Blacks Going Vegan!
at http://blacksgoingvegan.com/meet-quinoa-the-superfood/