Italian-Style Vegan Meatballs in Spicy Tomato Sauce
Created by:
Deborrah Cooper of BlacksGoingVegan.Com
Recipe Type:
Appetizers/Snacks
1 cup crimini mushrooms (about 8)
1 Tablespoon olive oil
3 large cloves garlic
½ cup fresh basil leaves
½ cup fresh Italian parsley leaves
1 small yellow onion
⅓ cup pecan pieces
¾ to 1 cup organic vegetable broth
1 Tablespoon soy sauce
2-1/4 cups vital wheat gluten
½ cup chickpea (garbanzo bean) flour
½ cup bread crumbs (seasoned or plain)
6 Tablespoons nutritional yeast
1 teaspoon baking powder
1 Tablespoon plus 1 teaspoon Italian herb seasoning
1 teaspoon Kosher salt
1 teaspoon fresh ground black pepper
1 teaspoon garlic salt
½ cup fresh Italian parsley leaves
2 Tablespoons soy sauce
1 small onion
2 green onions
1 not-beef bouillon cube
3 Tablespoons pure maple syrup
1 6 oz can unsalted tomato paste
1 teaspoon red pepper flakes (or to taste)
Blend first seven wet ingredients until smooth, then add broth and soy sauce. Blend a few seconds more than set aside as you prepare your dry ingredients.
Combine dry ingredients in large bowl, and with whisk to blend thoroughly. Form a valley in the center of the bowl and pour the wet ingredients into it. Mix thoroughly, using a rubber spatula.
Dig in there with your hands if necessary, you want to make sure to incorporate all the bits of the dry mix. Add more vegetable broth by the tablespoon if needed.
Remove dough from bowl and knead like bread for about 5 minutes. SHape seitan into a large ball. Place ball back in bowl and let rest for 20-30 minutes. In the interim, prepare your seasoned broth for cooking the meatballs.
Blend or process the simmering broth ingredients thoroughly into a smooth, thick paste. Add the remainder of your carton of vegetable broth and blend another 5 to 10 seconds. Set aside.
Once dough has rested for 30 minutes, set your oven to 375 degrees. Lightly oil (olive oil) a large baking pan with sides at least 3" high.
Using kitchen shears, cut your seitan ball into equal pieces no larger than 1" square. Roll each square into a ball and place it in the oiled baking pan. Continue until you have made all of the meatballs (should have about 50).
Carefully pour the simmering broth over the meatballs, and cover pan tightly with its own top or aluminum foil.
Place covered pan in oven and bake for 1 hour. Stir meatballs to flip them over and bake another 30-45 minutes with the foil or top off to brown meatballs and allow the broth to evaporate.
Serve warm or room temperature with toothpicks as an appetizer, or make a meatball sub sandwich, or use them in your favorite spaghetti sauce.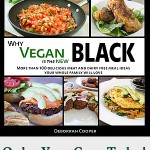 WHY VEGAN IS THE NEW BLACK: More Than 100 Delicious Meat and Dairy Free Meal Ideas Your Whole Family Will Love available on Amazon.Com or by order through your local bookseller. Find out more information at www.whyveganisthenewblack.com.
Recipe by
Blacks Going Vegan!
at http://blacksgoingvegan.com/italian-style-vegan-meatballs-spicy-tomato-sauce/