Flavorful Vegan Hot Dogs (Veggie Dogs)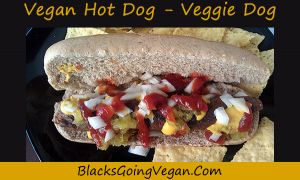 Created by:
Deborrah of BlacksGoingVegan.Com
2 Tablespoons Tamari or liquid aminos
5 Tablespoons almond meal or ground pecans
4 Tablespoons water or vegetable broth
¾ block of extra firm organic non-GMO tofu
3 Tablespoons olive oil
2 Tablespoons nutritional yeast flakes
½ medium red or Spanish onion, cut into chunks
2 cloves garlic, skin removed and cut in half
2 teaspoons smoked paprika
1 Tablespoon dark brown sugar
2 teaspoon smoked salt flakes
1 teaspoon ground white pepper
1 teaspoon ground mustard
½ teaspoon ground cumin
½ teaspoon ground coriander
½ teaspoon ground allspice
¼ teaspoon ground cardamom
1 cup plus 2 Tablespoons vital wheat gluten
2 teaspoons vegetarian chicken or beef powder
1 teaspoon arrowroot powder
Cut tofu into 6 chunks and add to food processor with remaining wet ingredients. Pulse 6-8 times to blend, then turn on low speed and blend for 1-1/2 to two minutes until creamy.
Place dry ingredients in large bowl, and whisk to combine thoroughly. Add wet ingredients from food processor (all at once or as much at one time as you can), and mix well with spatula. Dig in with hand to incorporate any remaining dry ingredients.
Poke and gently knead dough in bowl with fingertips for about 1 minute. Turn dough out onto lightly oiled cutting board or counter, and roll/shape into cylinder which is a uniform circumference. Pat in the ends to avoid a pointy edge.
Cut dough right in the center, then cut each half in half again, each half in half again, then each half in half one more time. You should end up with 16 even pieces of dough. (If you like fat links, or you use foot-long buns, you should stop cutting at 8 chunks)
Roll each piece into a cylinder, making it the length to match your bun. Wrap in a piece of parchment paper, then in a piece of foil, sealing the ends with a twist like a Tootsie Roll candy.
Place foil rolls in a large pot with a steamer insert and cover; steam for 40-50 minutes (longer for the thicker rolls). Turn off flame and remove top to let veggie dogs cool.
To finalize cooking process, throw them on the grill to brown and get those cool grill marks, simmer on the stove in water, or pan-fry in a bit of oil.
Serve on whole grain buns with topping and sides of your choice.
Though they are ready to use right away, the texture and firmness of these hot dogs improves with overnight refrigeration.
Recipe by
Blacks Going Vegan!
at http://blacksgoingvegan.com/flavorful-vegan-hot-dogs-veggie-dogs/