Vegan Spicy Thai Basil Fried Rice with Chick'n Seitan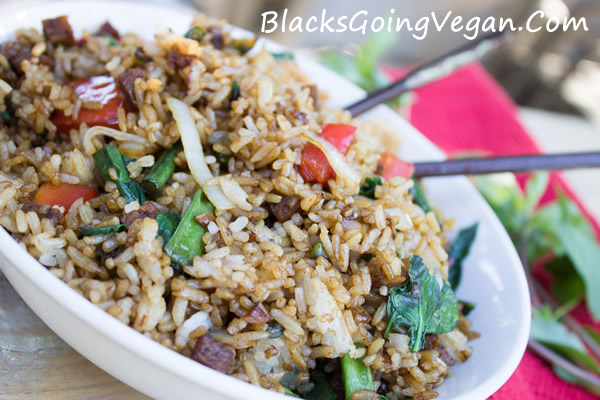 Created by:
Deborrah of BlacksGoingVegan.Com
4 cloves of garlic, minced
1 red and 1 green Thai chile pepper, sliced fine
½ cup chicken style seitan, cut into ¼" chunks
⅓ cup onion, sliced and cut into 1" pieces
⅓ cup Chinese long beans, cut into 1" pieces
¼ cup baby carrots, cut into quarters lengthwise, then into small pieces
¼ cup red bell pepper, chopped small
⅔ cup Thai basil leaves, sliced
1 Tablespoon vegan oyster sauce
1 Tablespoon vegan fish sauce (or commercial version)
1-1/2 teaspoons double black thick soy sauce
1 Tablespoon low-sodium Tamari
2 Tablespoons water
2-1/2 cups previously cooked Basmati or Jasmine rice, cooled or cold from refrigerator
2 Tablespoons peanut or grapeseed oil
Prepare the ingredients, readying them in individual containers. Put the sauces in one container.
Heat 2 Tablespoons oil in large heavy non-stick skillet over medium heat until hot. Add garlic and chopped chiles and stir fry rapidly until garlic begins to turn brown. Make sure you do not burn it.
Add the chopped seitan and stir fry about 60 seconds. Add the long beans, carrots and red bell peppers. Stir to mix. Add in the four blended sauces and water.
Continue stir frying another minute or two, then add the onion and stir fry until they are slightly limp.
Make sure there are no clumps in your rice, then add it to the sauce mix and flip around with a spatula to mix everything together. Add another Tablespoon of water if needed.
Add the basil and remove pan from heat. Flip mixture 5-6 more times then serve.
Recipe by
Blacks Going Vegan!
at https://blacksgoingvegan.com/spicy-thai-basil-fried-rice/