Vegan Chickpea Veggie Burgers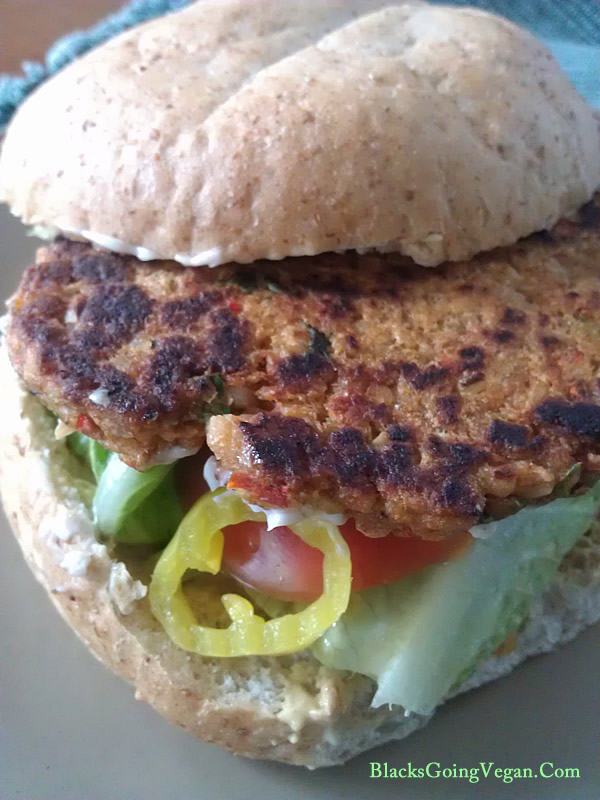 Created by:
Deborrah of BlacksGoingVegan.Com
1-1/2 cups rolled oats
½ cup whole wheat flour
2 Tablespoons garlic powder
2 Tablespoons dehydrated onion flakes
2 heaping Tablespoons of fresh chopped parsley leaves
1-1/2 teaspoons chili powder
½ teaspoon oregano
½ teaspoon cumin
½ teaspoon Himalayan pink salt
½ teaspoon fresh ground black pepper
1 cup drained chick peas
¼ large red bell pepper, cut into chunks
¼ large green or yellow bell pepper, cut into chunks
1 Fresno or Jalapeno pepper, seeded and cut into pieces
2 Tablespoons Bragg's aminos or Tamari style soy sauce
1 cup water
2 Tablespoons olive oil
Combine dry ingredients into large mixing bowl.
Blend wet ingredients in blender until smooth and free of vegetable pieces.
Dump wet ingredients into dry and blend until well combined and no dry components remain.
Cover loosely (to protect from insects mostly), and let mixture sit and thicken for about 30 minutes.
Stir again and taste; adjust seasonings as you care to.
Add small amount of oil into non stick skillet and heat over medium-low flame.
With damp hands, form about ⅓ cup of mixture into a patty that matches the size of your bun (I used extra large buns and more like ½ cup in the photos). Try to pat it out to be about ¼" thick, so add more or less mix (if making sliders), as needed.
Put patty in hot pan and cook about 1-2 minutes until lightly browned and crisp on the edges. Flip over then cover pan with top. Let cook another minute or two until browned and hot.
Remove from pan and place on your prepared bun.
These patties freeze well. Just wrap individually in plastic wrap or waxed paper and place in a zip style freezer bag. Remove one at a time, thaw, and warm in hot skillet for 1 minute.
Recipe by
Blacks Going Vegan!
at https://blacksgoingvegan.com/vegan-chickpeas-veggie-burgers/